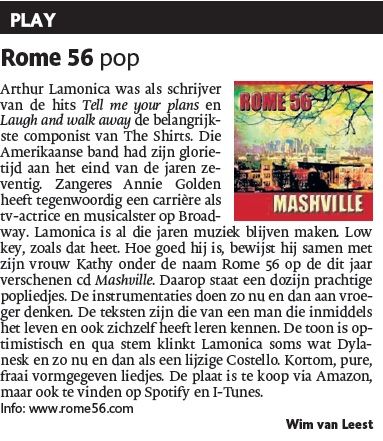 Play
Rome 56 pop
As a writer of the hits "Tell Me Your Plans" and "Laugh And Walk Away" Arthur Lamonica was the key
composer of The Shirts. The American band had its heyday at the end of the Seventies.
Singer Annie Golden now has a career as TV actress and musical star on Broadway.
Lamonica always continued to make music. Many years low key in Rome 56.
He proves how good he is together with his wife Kathy on the CD Mashville, that was released this year. He plays a dozen beautiful pop songs. The instrumentations do occasionally make you think of the old times (of the Shirts). The lyrics are those of a man who knows life and also knows himself. The tone is optimistic and in terms of voice Lamonica sometimes sounds Dylanesque and occasionally as a drawling Costello. In short, pure, beautifully crafted songs. The album is available through Amazon, but also on Spotify and I-Tunes.
Info: www.rome56.com
Wim van Leest